Browse Herbals
A
B
C
D
E
F
G
H
I
J
K
L
M
N O P Q R S T U V W X Y Z
Support This Site, Buy Seeds, Herbs, Plants & More!
Waltheria americana (Uhaloa)
Uhaloa leaf is used by herbalist for chronic asthma, and as a believed natural anti-inflammatory and anti-fungal agent. It's often utilized for sore throat and internally for arthritis, neuralgia, and the common cold, cough, bronchial phlegm and to loosen mucous. Because of its properties and chemical constituents, it's very similar to Mullein, Coltsfoot, Slippery Elm, and Indian Tobacco. In fact, these all go great together. I often like to mix herbs which share similar applications in herbalism. It's very important to research possible interactions first, and speak with a doctor..
White Willow Bark ( Salix alba )
White Willow bark is most commonly known for being a source from which drug companies mass produce aspirin. Native Americans used it as an anti-biotic. It's of major interest to phytochemist and has a vast history of folk lore surrounding it as well. I'm not a Doctor but especially consult with one if you have ulcers, but I digress. I became very interested in this stuff when I began to wonder what potential benefits and applications it has in herbalism, aside from containing the acid that makes NSIDS. I often wonder if the tree itself is endangered because of its industrial charm. Read more about White Willow here.
Wild Lettuce (Lactuca virosa)
Wild Lettuce, or Opium Lettuce is considered very valuable by Native Americans. Its use has been documented as far back as the 19th century. Physicians would use it when Opium itself could not be obtained. In 1911 this herb was extensively studied by the Council Of The Pharmaceutical Society in Great Britain. This says a lot about its potential I think. To me, it's not as good as Kratom. It goes great however with it, and anything CBD or HEMP related. It's not bad tasting, and I find it great when I'm sick. It does grow wild in certain areas of the United States! It's not an addictive narcotic like Opium. There have been no attempts to ban it that I know of. Read more about Wild Lettuce here.
Wisteria (Fabaceaea family)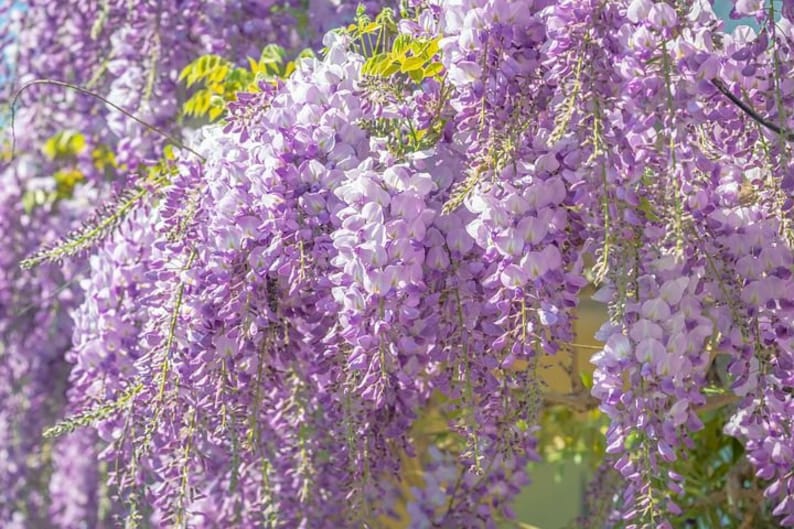 I listed Wisteria on here because of its aromatic potential. I think it's got a lot of promise in aromatherapy. The flowers smell godly and are sure to lift anyones mood at any place, any time. It's a very tough vine though so be careful. It can climb up to the tops of really tall trees and is almost snake like with its very thick and almost predator like vine. It can get as big around as a tree branch and it's almost impossible to get rid of ( not that you'd want to ). These are good things to know though.
Witch Hazel ( Hamamelis virginiana )
Witch Hazel has been used by the Native Americans in the form of a decoction. Decoctions are made by boiling roots and barks for an extended period of time. They used it to to treat swellings, inflammations, sores, bruises, and even tumors. Other herbalist applications for this incredible botanical include: psoriasis, eczema, aftershave applications, ingrown nails, to prevent sweating of the face, cracked or blistered skin, for treating insect bites, poison ivy, and as a treatment for varicose veins and hemorrhoids(yikes!). You'll notice that it's quite often listed as an active ingredient in over the counter health products such as antiseptics, teas, mouthwashes, topical gels for cuts and burns, etc. This is proof of its industrial importance. Read more about Witch Hazel here.
Wormwood ( Artemesia absinthium )
Wormwood is believed by some to have oneirogenic properties. Throughout history it's been used as a vermifuge ( to get rid of worms ), as a medicine, and even as an ingredient in psychoactive liquors like Absinthe. I especially like it when I get sick with a cold of flu, which doesn't happen often. I've used it in a home made DIY spray to keep pest off my plants. You basically just make a tea of it and spray it on your garden for that. Some of the most creative and inspirational minds in human history have been a fan of consuming the stuff! Discover more about the science and lore associated with Wormwood.
Blogs which start with the letter W include: Why I Think Kratom Is Essential To Society White Vein Strains Effects Which specioes strain to grow? Whats the Best Mitragyna vendor? Who has a good Kratom tincture? Who's got a good Mitragyna extract? Whats the Kratom experience like?
Specific citations can be found on the items individual page. There are resources made available in the links section as well. Please abide by our legal Disclaimer.
Kratom, Plants, Seeds, Ethnobotanicals, Oneirogens..




INFORMATION PROVIDED ON OUR WEBSITE IS FOR BOTANICAL/CULTURAL RESEARCH PURPOSES ONLY! ANY REFERENCES ABOUT THE USE OR EFFECTS OF THESE NATURAL HEALING HERBS IS BASED ON TRADITIONAL USE OR SHAMANIC PRACTICES. ALL PRODUCTS ARE SOLD FOR ETHNOBOTANICAL RESEARCH (Consult your healthcare provider)! Not evaluated or approved by the FDA. Not intended to diagnose, treat, prevent, or cure any ailments, conditions, diseases, etc.) More citations can be found on each items individual page within this website. Thank you. I do participate in the Amazon llc affilaite program and others which means I earn income when people click the ads and spend money. Thank you for supporting me, these shops, and entrapaneurs who sell through Amazon.




Browse Similar Botanicals Here!

<+BR>






Browse Herbals




A B C D E F G H I J K L M




N O P Q R S T U V W X Y Z




Browse Ethnonobotanicals




A B C D E F G H I J K L M




N O P Q R S T U V W X Y Z